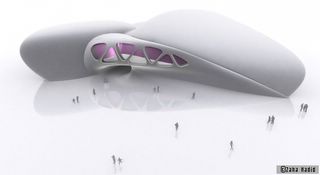 Zaha.

It's all about those things we can not see... A line over another line and colliding in smoothness, describing a curve that flows to the floor, to the ceiling in a spiral provoke, the sensation of discovery, of travel trough a single gaze... an effort to feel that you are not curious... and then... it happens. Too many ways to expand yourself, your space, your thoughts, your screams, there're no axis, just you... floating in the space that you want to feel... your own nature, symbiosis.
Le coup de Pau de Zaha Hadid
Trazas-Arquitextonica.
Zaha Hadid (Homepage)